Looks like we have a better chance of thunderstorms today than was expected this morning. The 12:30 thunderstorm outlook puts us at a 40% chance of storms from 4-8pm, and we're back to a 10% chance 8pm-midnight. (Outlook images below.)
Storms this afternoon and evening are still not expected to bring widespread severe weather, though isolated storms could bring damaging wind gusts and some hail. (Updated: today's day 1 outlook effective 12:30pm through tonight puts us at a 5% risk for both hail and damaging winds along with these storms.)
There's also a line of rapidly-developing cells headed this way shortly which should bring fairly heavy (but short-lived) rain and a little lightning (image below). These storms are not severe at this time. (Update: this line is expected to bring heavy rain for a short period of time, some lightning, and minimal risk of damaging winds or hail.)
Additionally, NWS Detroit has issued a statement regarding thunderstorm development in SW MI (extending as far east as Jackson) early this afternoon:
SCATTERED THUNDERSTORMS WILL DEVELOP ACROSS SOUTHWEST LOWER MICHIGAN
THROUGH 2 PM. THE BEST CHANCES FOR THUNDERSTORMS WILL BE EAST OF A
HOLLAND TO REED CITY LINE.

MOST STORMS WILL BE ACCOMPANIED BY BRIEF HEAVY DOWNPOURS AND GUSTY WINDS
BUT A FEW WILL BRING UP TO PENNY SIZED HAIL AND FREQUENT CLOUD-
TO-GROUND LIGHTNING.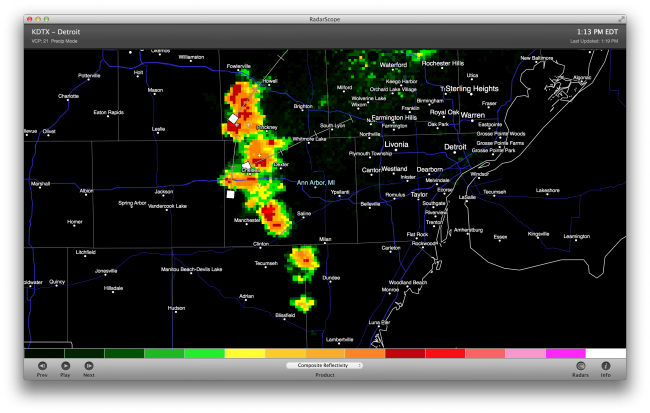 Thunderstorm outlooks: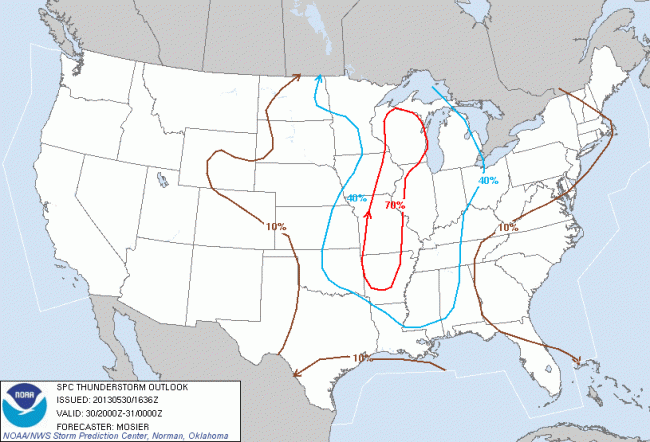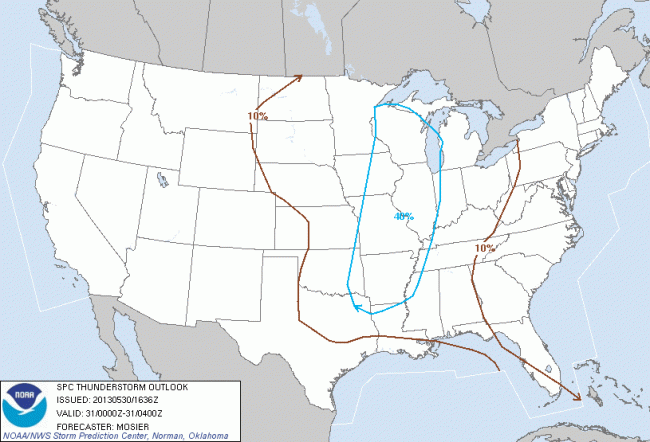 Additional reading: today's hazardous weather outlook from NWS Detroit (text follows).
HAZARDOUS WEATHER OUTLOOK
NATIONAL WEATHER SERVICE DETROIT/PONTIAC MI
428 AM EDT THU MAY 30 2013

MIZ047>049-053>055-060>063-068>070-075-076-082-083-310830-
MIDLAND-BAY-HURON-SAGINAW-TUSCOLA-SANILAC-SHIAWASSEE-GENESEE-LAPEER-
ST. CLAIR-LIVINGSTON-OAKLAND-MACOMB-WASHTENAW-WAYNE-LENAWEE-MONROE-
428 AM EDT THU MAY 30 2013

THIS HAZARDOUS WEATHER OUTLOOK IS FOR PORTIONS OF SOUTHEAST
MICHIGAN.

.DAY ONE...TODAY AND TONIGHT

THERE IS A CHANCE OF THUNDERSTORMS THIS AFTERNOON AND TONIGHT.
WIDESPREAD SEVERE WEATHER IS NOT EXPECTED. HOWEVER SOME ISOLATED
STORMS MAY PRODUCE WIND GUSTS UP TO 60 MPH. STORM MOTION WILL BE
TO THE NORTHEAST AT 30 MPH. THE CHANCE OF STORMS WILL BE THE
RESULT OF A WARM AND UNSTABLE AIRMASS OVER THE REGION.

.DAYS TWO THROUGH SEVEN...FRIDAY THROUGH WEDNESDAY

THERE IS A CHANCE OF THUNDERSTORMS FRIDAY AND SATURDAY AS A WARM
AND HUMID AIRMASS RESIDES OVER THE REGION AND A FRONTAL BOUNDARY
APPROACHES FROM THE WEST. THERE IS A SLIGHT RISK OF SEVERE STORMS
BOTH DAYS. THE POTENTIAL FOR MULTIPLE ROUNDS OF THUNDERSTORMS MAY
ALSO LEAD TO A POTENTIAL FOR FLOODING. MULTIPLE UPPER LEVEL
DISTURBANCES TRAVERSING THE REGION WITHIN THIS UNSTABLE AIRMASS
WILL PROVIDE THE CHANCES FOR MULTIPLE ROUNDS OF THUNDERSTORMS OVER
THE NEXT COUPLE OF DAYS.

.SPOTTER INFORMATION STATEMENT...

SPOTTER ACTIVATION IS NOT ANTICIPATED AT THIS TIME.

$$