A major severe weather outbreak will occur later with rapidly developing storms starting this afternoon. The area likely to be most affected is to our south and westward – western Ohio, much of Indiana, northern/central Illinois, eastern Iowa. Ann Arbor can expect organized thunderstorms associated with this system starting later this afternoon. Some storms will be severe, especially tonight, the later of which will probably include damaging winds and large hail, with a slight tornado risk.
Later tonight, this severe system to our west is expected to develop into a fast-moving squall line with widespread damaging winds and possible embedded tornadoes. The most damaging of this weather is currently predicted to pass south of us, but tonight and early Thursday morning we will see severe weather associated with this line. These will likely be strong, fast-moving storms, with the primary risks being damaging wind (70mph) and isolated tornadoes.
Washtenaw County Emergency Operations Center: SEVERE THUNDERSTORMS WITH 70 MPH WINDS, 1 INCH HAIL, HEAVY RAINFALL AND ISOLATED TORNADOES POSSIBLE THIS AFTERNOON & EVENING.
Thunderstorm risk for Ann Arbor
From 4pm-midnight, we will see some thunderstorms. Some of these will be severe, especially later this afternoon and this evening. After midnight through Thursday morning, we will see widespread storms; some will probably be severe. All these storms, especially storms tonight and early Thursday morning, bring a significant risk of damaging wind and large hail; and a smaller risk of isolated tornadoes.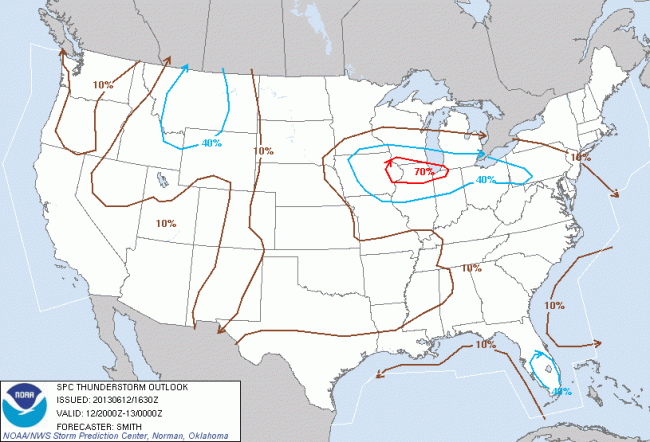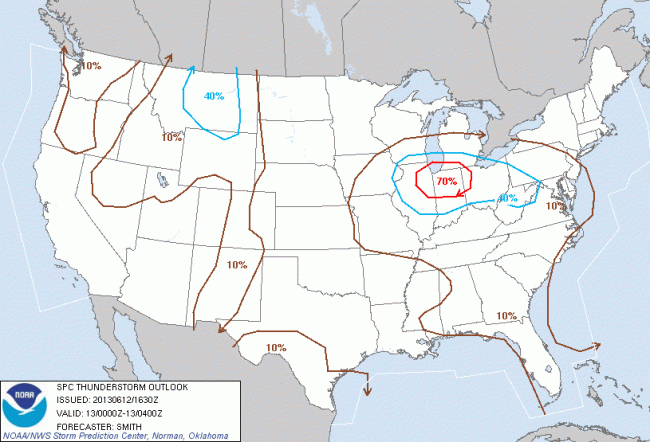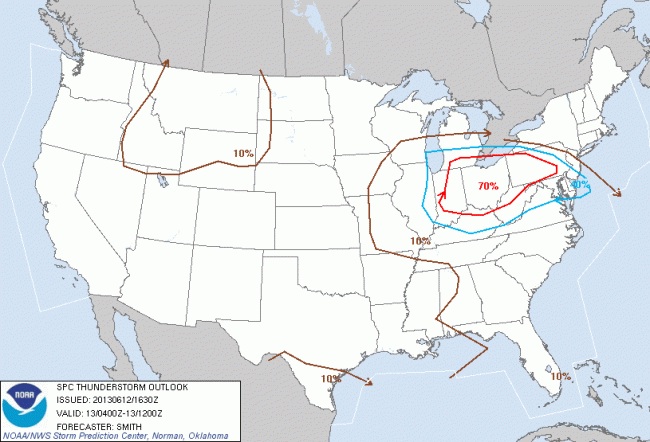 HAZARDOUS WEATHER OUTLOOK
NATIONAL WEATHER SERVICE DETROIT/PONTIAC MI
1122 AM EDT WED JUN 12 2013

LCZ423-460-LEZ444-MIZ068>070-075-076-082-083-131530-
DETROIT RIVER-LAKE ST. CLAIR-
MICHIGAN WATERS OF LAKE ERIE FROM DETROIT RIVER TO NORTH CAPE MI-
LIVINGSTON-OAKLAND-MACOMB-WASHTENAW-WAYNE-LENAWEE-MONROE-
1122 AM EDT WED JUN 12 2013

THIS HAZARDOUS WEATHER OUTLOOK IS FOR LOCATIONS ALONG AND SOUTH OF
A HOWELL TO MOUNT CLEMENS LINE.

.DAY ONE...THIS AFTERNOON AND TONIGHT

NUMEROUS THUNDERSTORMS ARE EXPECTED LATE THIS AFTERNOON THROUGH
TONIGHT. THERE IS A SLIGHT CHANCE OF SEVERE WEATHER WITH THESE
STORMS...WITH A LITTLE GREATER CHANCE ACROSS LENAWEE AND MONROE
COUNTIES. THE MOST PROBABLE TIME PERIOD FOR SEVERE WEATHER WILL BE
BETWEEN 5 PM AND MIDNIGHT.

DUE TO THE DEGREE OF INSTABILITY AND ATMOSPHERIC WIND SHEAR
EXPECTED BY LATE TODAY...THE PRIMARY HAZARDS WITH THESE STORMS
WILL BE DAMAGING WIND GUSTS TO 70 MPH AND LARGE HAIL OF ONE INCH
IN DIAMETER. IN ADDITION...ISOLATED TORNADOES WILL BE POSSIBLE
ALONG A WARM FRONT FROM LATE AFTERNOON INTO EARLY EVENING...MOST
LIKELY ALONG OR SOUTH OF I 94. LINGERING THUNDERSTORMS MAY PRODUCE
VERY HEAVY RAIN AND LOCALIZED FLOODING TONIGHT AS A LOW PRESSURE
SYSTEM TRACKS ALONG THE WARM FRONT JUST SOUTH OF THE STATE.
THUNDERSTORMS WILL MOVE EAST AT 30 MPH EARLY IN THE EVENING.
THUNDERSTORM MOTION MAY INCREASE UP TO 50 MPH BY LATE EVENING.

.DAYS TWO THROUGH SEVEN...THURSDAY THROUGH TUESDAY

THE NEXT CHANCE FOR THUNDERSTORMS WILL HOLD OFF UNTIL LATE THIS
WEEKEND INTO MONDAY.

.SPOTTER INFORMATION STATEMENT...
DISPATCHERS...PLEASE NOTIFY YOUR EMERGENCY MANAGER IMMEDIATELY.
SPOTTER ACTIVATION MAY BE NEEDED LATE THIS AFTERNOON INTO TONIGHT.

$$
Additional Information on the severe weather outbreak and SPC outlook graphics follow:
The area described above is designated in purple in the SPC's convective outlook (below) in a  "HIGH" risk area. "HIGH" risk is rarely used, and this area will receive organized severe thunderstorms, damaging wind, large hail, and some tornadoes. Ann Arbor is just north of the "moderate" risk area; we can expect severe weather later this afternoon/tonight.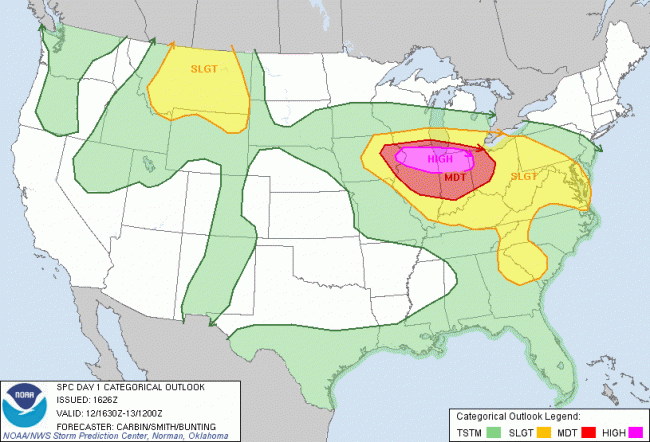 The SPC puts Ann Arbor in the 30% probability area for damaging wind: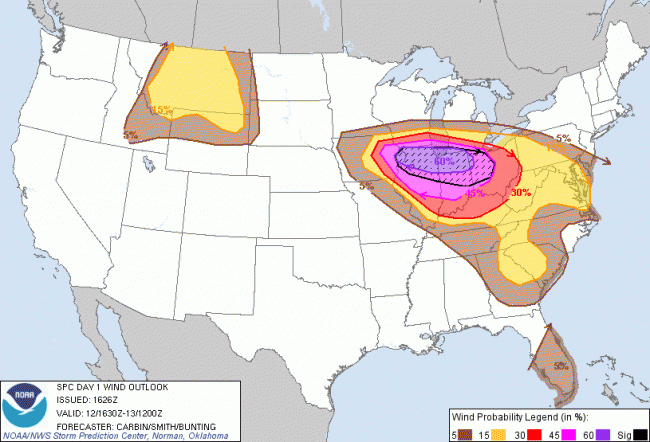 The SPC puts Ann Arbor in the 30% risk area for large hail: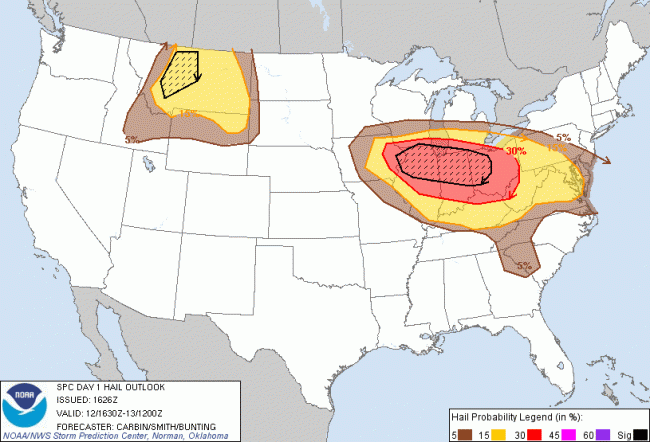 And the SPC puts Ann Arbor in the 5% probability area for tornadoes: