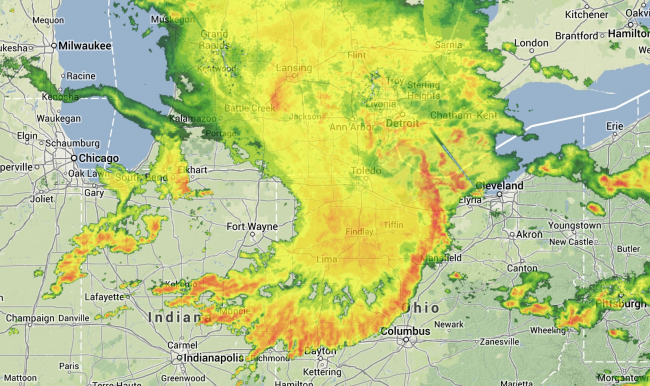 As predicted, a severe storm system developed west of us and moved west-southwest, with the nearest severe weather to Ann Arbor passing just south of the Michigan-Ohio border (associated with the bowing squall line in the radar image above).
Ann Arbor can expect heavy rain with thunderstorms over the next several hours, diminishing later in the morning as this system moves out of the area. These storms are not generally expected to be severe, though they will bring downpours.
The severe thunderstorm watch for our area has been cancelled (Watch County Notification [WCN] below). With the watch cancelled, we are at a slight risk of severe weather – the most severe risk is around central IN and west/central OH. The most relevant convective and thunderstorm outlook products available at this time of night show us at little risk of strong thunderstorms or other severe weather as day breaks on Thursday.
Additional reading: SPC MD 1054.
WWUS63 KDTX 130444
WCNDTX

WATCH COUNTY NOTIFICATION FOR WATCH 300
NATIONAL WEATHER SERVICE DETROIT/PONTIAC MI
1244 AM EDT THU JUN 13 2013

MIC091-115-161-163-130545-
/O.CAN.KDTX.SV.A.0300.000000T0000Z-130613T0600Z/

THE NATIONAL WEATHER SERVICE HAS CANCELLED SEVERE THUNDERSTORM
WATCH 300 FOR THE FOLLOWING AREAS

IN MICHIGAN THIS CANCELS 4 COUNTIES

IN SOUTHEAST MICHIGAN

LENAWEE               MONROE                WASHTENAW
WAYNE

THIS INCLUDES THE CITIES OF...ANN ARBOR...CANTON...CLINTON...
DEARBORN...LAMBERTVILLE...LINCOLN PARK...LIVONIA...MONROE...
REDFORD...TAYLOR...TEMPERANCE AND WESTLAND.

$$

LCZ423-LEZ444-130545-
/O.CAN.KDTX.SV.A.0300.000000T0000Z-130613T0600Z/

THE NATIONAL WEATHER SERVICE HAS CANCELLED SEVERE THUNDERSTORM
WATCH 300 FOR THE FOLLOWING AREAS

THIS CANCELS THE FOLLOWING ADJACENT COASTAL WATERS

DETROIT RIVER
MICHIGAN WATERS OF LAKE ERIE FROM DETROIT RIVER TO NORTH CAPE MI

$$

KURIMSKI

----
GROUPJUL132013 WASHTENAWMI