As on any hot, humid summer day, we can expect thunderstorms to develop across SE Michigan and northern Ohio today. It is difficult to predict accurately & specifically whether any will hit an area as small as Ann Arbor.
Severe weather is not generally expected, but isolated thunderstorms could be strong, with 50-60 mph wind gusts and briefly heavy rainfall.
The relevant part of today's severe weather outlook from NWS Detroit:
THUNDERSTORMS ARE POSSIBLE THIS AFTERNOON AND TONIGHT FOR THE
CENTRAL GREAT LAKES REGION. WIDESPREAD SEVERE WEATHER IS NOT
ANTICIPATED BUT AN ISOLATED THUNDERSTORM MAY PRODUCE WIND GUSTS TO
50 KNOTS AND BRIEF HEAVY RAINFALL. STORM MOTION WILL BE WEST TO
EAST BETWEEN 15 AND 20 KNOTS.
As of 1:20 pm, a small cell has popped up just north of Ann Arbor; this cell is tracking east-northeast and will continue to develop while moving away from the city. We can expect similar pop-up thunderstorms across the area this afternoon.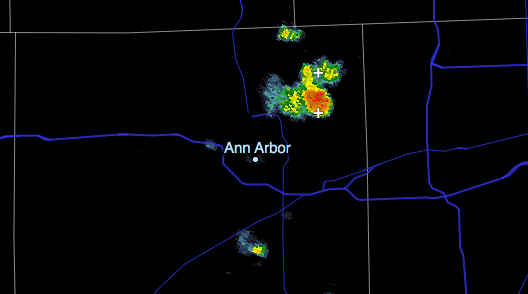 The SPC puts us at 10%-30% probability of thunderstorms until midnight; and only a 5% probability of damaging wind or large hail.