The threat of damaging winds and large hail is increasing (read MD 1227 for detailed background information), and the SPC has issued a severe thunderstorm watch for southern MI. The watch is effective until midnight.
A watch means that conditions are right for severe thunderstorms to form in and close to the watch area (and we have seen some storms form in SW MI very quickly this afternoon).
The watch is in response to storms which developed quickly in SW Michigan around 5pm today, and shortly thereafter became severe. They are moving west, relatively slowly right now, and are expected to persist or continue developing. They are already severe, with significant lightning, heavy rainfall, and tops at 55,000 feet.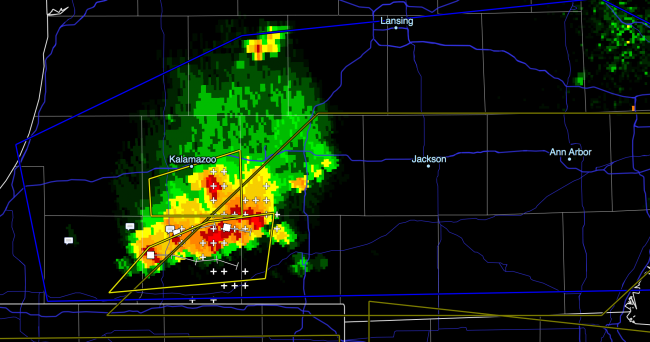 Primary threats from storms in this area are:
damaging winds (70mph gusts possible)

some large hail up to 1.5 inches in diameter is possible
few tornadoes are possible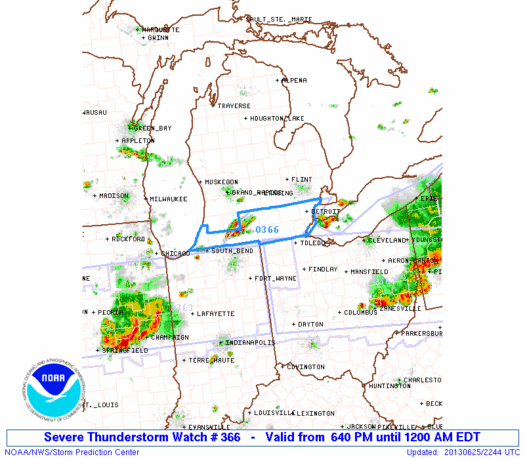 SEL6

   URGENT - IMMEDIATE BROADCAST REQUESTED
   SEVERE THUNDERSTORM WATCH NUMBER 366
   NWS STORM PREDICTION CENTER NORMAN OK
   640 PM EDT TUE JUN 25 2013

   THE NWS STORM PREDICTION CENTER HAS ISSUED A

   * SEVERE THUNDERSTORM WATCH FOR PORTIONS OF 
     SOUTHERN LOWER MICHIGAN
     LAKE ERIE

   * EFFECTIVE THIS TUESDAY NIGHT FROM 640 PM UNTIL MIDNIGHT EDT.

   * PRIMARY THREATS INCLUDE...
     SEVERAL DAMAGING WIND GUSTS TO 70 MPH POSSIBLE
     A FEW LARGE HAIL EVENTS TO 1.5 INCHES IN DIAMETER POSSIBLE
     A FEW TORNADOES POSSIBLE

   THE SEVERE THUNDERSTORM WATCH AREA IS APPROXIMATELY ALONG AND 60
   STATUTE MILES EAST AND WEST OF A LINE FROM 15 MILES NORTH OF ANN
   ARBOR MICHIGAN TO 40 MILES SOUTH SOUTHWEST OF JACKSON MICHIGAN. 
   FOR A COMPLETE DEPICTION OF THE WATCH SEE THE ASSOCIATED WATCH
   OUTLINE UPDATE (WOUS64 KWNS WOU6).

   PRECAUTIONARY/PREPAREDNESS ACTIONS...

   REMEMBER...A SEVERE THUNDERSTORM WATCH MEANS CONDITIONS ARE
   FAVORABLE FOR SEVERE THUNDERSTORMS IN AND CLOSE TO THE WATCH
   AREA. PERSONS IN THESE AREAS SHOULD BE ON THE LOOKOUT FOR
   THREATENING WEATHER CONDITIONS AND LISTEN FOR LATER STATEMENTS
   AND POSSIBLE WARNINGS. SEVERE THUNDERSTORMS CAN AND OCCASIONALLY
   DO PRODUCE TORNADOES.

   &&

   OTHER WATCH INFORMATION...CONTINUE...WW 361...WW 362...WW
   363...WW 364...WW 365...

   DISCUSSION...TSTMS NOW FORMING IN SW LWR MI...ALONG INTERSECTION OF
   LAKE BREEZE BOUNDARY AND W-E OUTFLOW BOUNDARY FROM EARLIER
   STORMS...EXPECTED TO PERSIST AND POSSIBLY STRENGTHEN AS LOW-LVL
   CONVERGENCE/HEATING CONTINUE ACROSS REGION. AREA VWP DATA WITH
   MODERATE...UNIDIRECTIONAL DEEP WLY WINDS SUGGEST POTENTIAL FOR A FEW
   SUSTAINED STORMS/BOWING SEGMENTS CAPABLE OF DMGG WIND...MARGINALLY
   SVR HAIL...AND PERHAPS A TORNADO THROUGH MID TO LATE EVE AS THE
   ACTIVITY MOVES/PROPAGATES MAINLY EWD.

   AVIATION...A FEW SEVERE THUNDERSTORMS WITH HAIL SURFACE AND ALOFT
   TO 1.5 INCHES. EXTREME TURBULENCE AND SURFACE WIND GUSTS TO 60
   KNOTS. A FEW CUMULONIMBI WITH MAXIMUM TOPS TO 550. MEAN STORM
   MOTION VECTOR 27035.


   ...CORFIDI