Several rounds of thunderstorms are likely across the area this afternoon into tonight. Heavy rain will be posible with some storms. There is a slight risk that some of these storms will be severe, with the primary threats being damaging winds (60mph gusts possible) and large hail. The best potential for severe storms is this afternoon and early evening. A tornado threat is minimal in our area. I wouldn't worry about that today; straight-line wind gusts are a much more likely problem.
The relevant portion of today's hazardous weather outlook:
.DAY ONE...TODAY AND TONIGHT

A MIDLEVEL DISTURBANCE WILL PASS THROUGH THE CENTRAL GREAT LAKES
TODAY AND TONIGHT...MAKING THUNDERSTORMS LIKELY ACROSS THE AREA.
THERE IS A SLIGHT RISK FOR SEVERE WEATHER...WITH DAMAGING WIND
GUSTS TO 60 MPH AND HAIL TO ONE INCH IN DIAMETER POSSIBLE. STORM
MOTION WILL BE WEST TO EAST AT 30 MPH.
NWS Detroit has released these easy-to-follow briefing slides about the severe weather threat facing us today and Wednesday. Note that the SPC hail, tornado, and wind outlook imagery included in this slideshow is out of date.
Updated SPC outlooks are here. We are on the border of the 30% probability areas for damaging wind and large hail. The thunderstorm outlook shows our risk dropping after 8pm, though we can still expect some storms across southern MI tonight.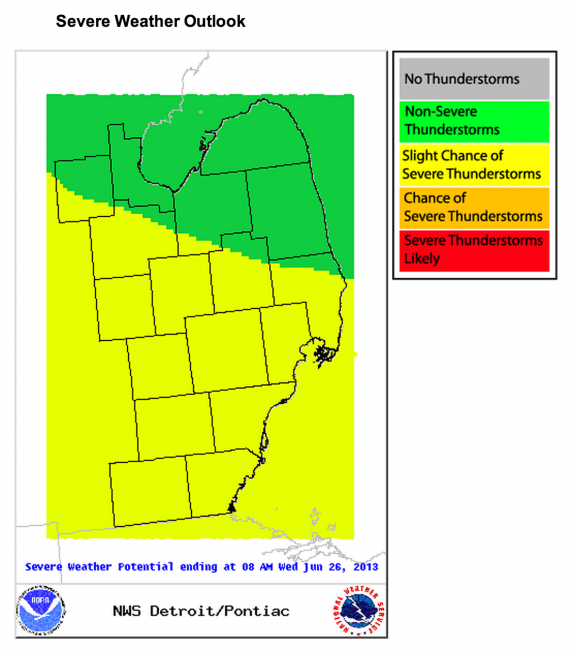 We will continue to see rounds of thunderstorms through Wednesday. (There is continued severe weather potential Wednesday, with risk of damaging winds and large hail, and a slightly increased tornado risk.)