A line of strong thunderstorms stretching approximately from Jackson to Toledo is moving northeast — exactly toward Ann Arbor — at 20mph. I expect them to arrive in Ann Arbor between 9:30 and 11pm this evening.
The storms are strong now, but not classified as severe. They are capable of producing heavy downpours, pea sized hail, 30mph wind gusts (capable of blowing trash bins and other light objects), and some cloud-to-ground lightning. They will likely remain the same strength or weaken somewhat before they arrive in Ann Arbor.
The cell over Adrian right now (exactly on track to hit A2) is currently the strongest cell in this line, and is currently producing some hail. It is best to be indoors when these storms arrive in Ann Arbor.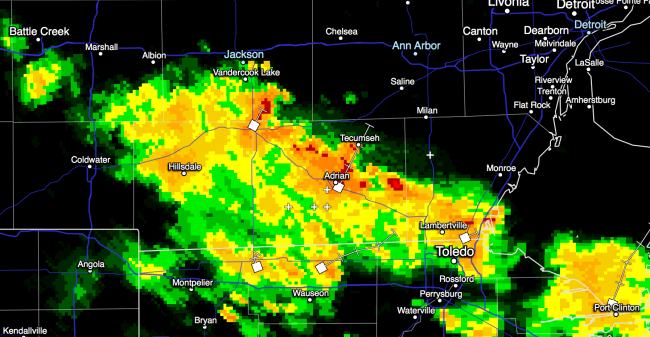 The Washtenaw County emergency operation center has this to say about severe weather in the area tonight:
ISOLATED SEVERE STORMS WITH 60 MPH WINDS, ONE INCH HAIL AND HEAVY RAINFALL ARE POSSIBLE THROUGH THURSDAY MORNING.
Full special weather statement from NWS Detroit follows:
WWUS83 KDTX 270022
SPSDTX

SPECIAL WEATHER STATEMENT
NATIONAL WEATHER SERVICE DETROIT/PONTIAC MI
822 PM EDT WED JUN 26 2013

MIZ075-076-082-083-270115-
LENAWEE-MONROE-WASHTENAW-WAYNE-
822 PM EDT WED JUN 26 2013

...SPECIAL WEATHER STATEMENT...

AT 817 PM EDT...NATIONAL WEATHER SERVICE DOPPLER RADAR INDICATED
STRONG THUNDERSTORMS ALONG A LINE EXTENDING FROM 16 MILES WEST OF
MANCHESTER TO 8 MILES SOUTH OF TECUMSEH TO 10 MILES SOUTH OF
MONROE...MOVING NORTHEAST AT 20 MPH.

HEAVY DOWNPOURS WITH MINOR FLOODING WILL BE POSSIBLE WITH THESE
STORMS. PEA SIZE HAIL AND WIND GUSTS AROUND 30 MPH AS WELL AS
OCCASIONAL CLOUD TO GROUND LIGHTNING ARE ALSO POSSIBLE.

* THUNDERSTORMS WILL BE NEAR...
 PETERSBURG BY 830 PM EDT...
 TECUMSEH BY 835 PM EDT...
 IDA AND BRITTON BY 840 PM EDT...
 DUNDEE AND CLINTON BY 845 PM EDT...
 MONROE AND MANCHESTER BY 855 PM EDT...
 MAYBEE BY 905 PM EDT...


GUSTY WINDS MAY CAUSE SMALL OBJECTS SUCH AS TRASH BINS TO BLOW
AROUND. STAY AWAY FROM HIGH OBJECTS OUTDOORS SUCH AS TREES. SEEK
SHELTER IN A STURDY STRUCTURE UNTIL THESE STORMS HAVE PASSED.

$$

RK