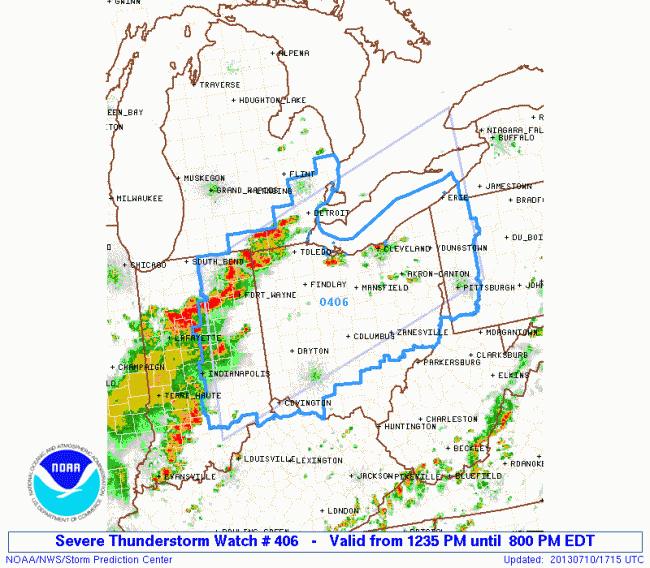 The NWS has issued Severe Thunderstorm Watch 406, which includes Ann Arbor and extreme southeastern Michigan. (Washtenaw County is on the inner edge of the watch area, illustrated above as a blue line.) We will likely see thunderstorms this afternoon across southeastern MI as a cold front moves south from northern MI. Storm development will be fueled by the warm, very moist air that we've all been complaining about as the front moves through.
With any storms that develop in the area today, we can expect brief heavy rain, gusting winds, and small hail. Some storms in the area this afternoon will likely be severe. With the most severe storms expected this afternoon, we could see large hail, damaging winds, and heavy downpours. It is impossible to predict whether or when severe storms will hit downtown Ann Arbor specifically. Storm motion will be west to east.
The SPC puts us just inside the 15% risk areas for damaging winds and large hail; tornado threat today is minimal: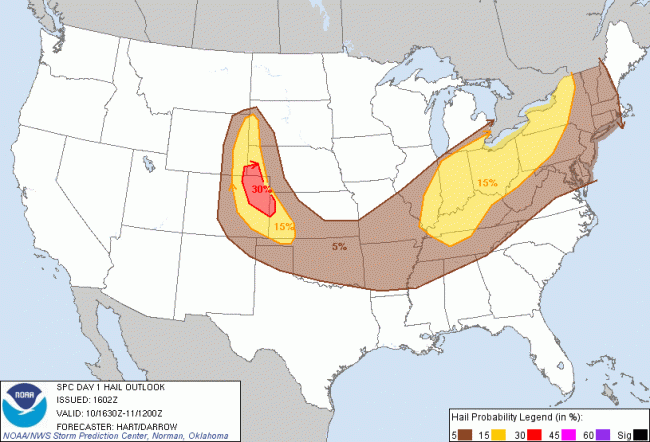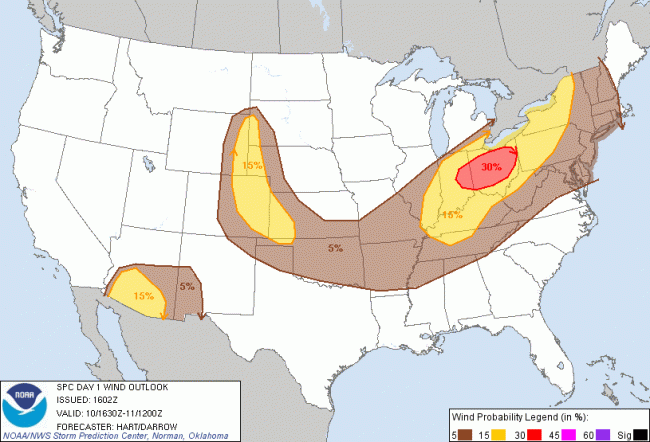 Our thunderstorm risk drops dramatically after 8pm today, when the front will have moved through.
Washtenaw County's Emergency Operations Center:
THUNDERSTORMS WITH 50 MPH WINDS, HALF INCH HAIL AND URBAN FLOODING ARE POSSIBLE UNTIL 8 PM.
Severe thunderstorm watch 406 watch county notification via NWS Detroit:
WWUS63 KDTX 101631
WCNDTX

WATCH COUNTY NOTIFICATION FOR WATCH 406
NATIONAL WEATHER SERVICE DETROIT/PONTIAC MI
1231 PM EDT WED JUL 10 2013

MIC091-099-115-125-147-161-163-110000-
/O.NEW.KDTX.SV.A.0406.130710T1631Z-130711T0000Z/

THE NATIONAL WEATHER SERVICE HAS ISSUED SEVERE THUNDERSTORM WATCH
406 IN EFFECT UNTIL 8 PM EDT THIS EVENING FOR THE FOLLOWING AREAS

IN MICHIGAN THIS WATCH INCLUDES 7 COUNTIES

IN SOUTHEAST MICHIGAN

LENAWEE               MACOMB                MONROE
OAKLAND               ST. CLAIR             WASHTENAW
WAYNE

THIS INCLUDES THE CITIES OF...ANN ARBOR...CANTON...CLINTON...
DEARBORN...FERNDALE...LAMBERTVILLE...LINCOLN PARK...LIVONIA...
MARYSVILLE...MONROE...NOVI...PONTIAC...PORT HURON...REDFORD...
ROYAL OAK...SOUTHFIELD...ST. CLAIR SHORES...STERLING HEIGHTS...
TAYLOR...TEMPERANCE...TROY...WARREN...WATERFORD AND WESTLAND.

$$

LCZ422-423-460-LEZ444-110000-
/O.NEW.KDTX.SV.A.0406.130710T1631Z-130711T0000Z/

THE NATIONAL WEATHER SERVICE HAS ISSUED SEVERE THUNDERSTORM WATCH
406 IN EFFECT UNTIL 8 PM EDT THIS EVENING FOR THE FOLLOWING AREAS

THIS WATCH INCLUDES THE FOLLOWING ADJACENT COASTAL WATERS

ST. CLAIR RIVER       DETROIT RIVER         LAKE ST. CLAIR
MICHIGAN WATERS OF LAKE ERIE FROM DETROIT RIVER TO NORTH CAPE MI

$$

KURIMSKI

----
GROUPJUL132013 WASHTENAWMI
And the full text of this watch from the SPC:
SEL6

   URGENT - IMMEDIATE BROADCAST REQUESTED
   SEVERE THUNDERSTORM WATCH NUMBER 406
   NWS STORM PREDICTION CENTER NORMAN OK
   1235 PM EDT WED JUL 10 2013

   THE NWS STORM PREDICTION CENTER HAS ISSUED A

   * SEVERE THUNDERSTORM WATCH FOR PORTIONS OF 
     EASTERN INDIANA
     FAR NORTHERN KENTUCKY
     SOUTHEAST LOWER MICHIGAN
     MUCH OF OHIO
     WESTERN PENNSYLVANIA
     PARTS OF THE NORTHERN WEST VIRGINIA PANHANDLE
     LAKE ERIE

   * EFFECTIVE THIS WEDNESDAY AFTERNOON AND EVENING FROM 1235 PM
     UNTIL 800 PM EDT.

   * PRIMARY THREATS INCLUDE...
     NUMEROUS DAMAGING WIND GUSTS LIKELY WITH A FEW SIGNIFICANT GUSTS
       TO 75 MPH POSSIBLE
     SEVERAL LARGE HAIL EVENTS WITH A FEW VERY LARGE HAIL EVENTS TO 2
       INCHES IN DIAMETER POSSIBLE
     A FEW TORNADOES POSSIBLE

   THE SEVERE THUNDERSTORM WATCH AREA IS APPROXIMATELY ALONG AND 105
   STATUTE MILES NORTH AND SOUTH OF A LINE FROM 35 MILES WEST
   SOUTHWEST OF MUNCIE INDIANA TO 30 MILES EAST OF ERIE
   PENNSYLVANIA.  FOR A COMPLETE DEPICTION OF THE WATCH SEE THE
   ASSOCIATED WATCH OUTLINE UPDATE (WOUS64 KWNS WOU6).

   PRECAUTIONARY/PREPAREDNESS ACTIONS...

   REMEMBER...A SEVERE THUNDERSTORM WATCH MEANS CONDITIONS ARE
   FAVORABLE FOR SEVERE THUNDERSTORMS IN AND CLOSE TO THE WATCH
   AREA. PERSONS IN THESE AREAS SHOULD BE ON THE LOOKOUT FOR
   THREATENING WEATHER CONDITIONS AND LISTEN FOR LATER STATEMENTS
   AND POSSIBLE WARNINGS. SEVERE THUNDERSTORMS CAN AND OCCASIONALLY
   DO PRODUCE TORNADOES.

   &&

   DISCUSSION...THUNDERSTORMS ARE EXPECTED TO CONTINUE TO INTENSIFY AND
   BECOME MORE NUMEROUS OVER PARTS OF LOWER MI AND IND THIS
   AFTERNOON...SPREADING EASTWARD ACROSS OH AND INTO PA BY EARLY
   EVENING.  VERY UNSTABLE CONDITIONS COMBINED WITH FAVORABLE WINDS
   ALOFT WILL PROMOTE A RISK OF DAMAGING WINDS IN THE STRONGEST STORMS.

   AVIATION...A FEW SEVERE THUNDERSTORMS WITH HAIL SURFACE AND ALOFT
   TO 2 INCHES. EXTREME TURBULENCE AND SURFACE WIND GUSTS TO 65
   KNOTS. A FEW CUMULONIMBI WITH MAXIMUM TOPS TO 550. MEAN STORM
   MOTION VECTOR 27035.

   ...HART
Here's our severe weather outlook for today:
THUNDERSTORMS ARE POSSIBLE TODAY WITH THE STRONGEST STORMS
APPROACHING SEVERE LIMITS. THE PRIMARY HAZARD WILL BE DAMAGING
WIND GUSTS NEAR 50 MPH...BUT HALF INCH HAIL AND HEAVY RAINFALL ARE
ALSO POSSIBLE. STORM MOTION WILL BE WEST TO EAST AT 40 MPH.

THUNDERSTORM DEVELOPMENT WILL BE POSSIBLE AT ANY TIME OF THE
MORNING THROUGH THE AFTERNOON...BUT WITH GREATER CHANCES TOWARD
THE OHIO BORDER BY EARLY AFTERNOON. A COLD FRONT WILL MOVE
SOUTHWARD FROM NORTHERN LOWER MICHIGAN DURING THE MORNING TO
SOUTH OF THE OHIO BORDER BY LATE AFTERNOON AND BRING AND END TO
THE STORM POTENTIAL.