Very hot, humid air over southern lower MI is likely to contribute to some isolated thunderstorm development across the area this afternoon into the night. These storms will have the potential for very heavy rainfall, and they will barely move (less than 10mph east-southeast), which could cause localized flooding. Storms are not expected to be severe; they are expected to carry very little hail or damaging wind risk, and virtually no tornado potential.
It is impossible to predict specifically whether any storms will hit Ann Arbor. As those at the Townie Street Party saw last night,  it's possible for the skies around downtown to look very ominous, but for us to receive only a few drops of rain, especially with storms which are nearly stationary. Storms this afternoon will be similarly very localized.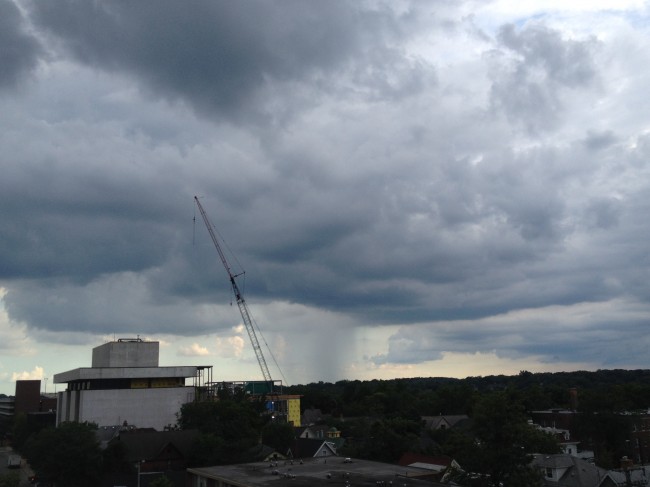 Also keep in mind the heat advisory in effect today: drink plenty of water, do not leave children or pets in cars, and stay indoors as much as is possible. (Heat advisory text from NWS Detroit)
Looking forward, we can expect basically the same weather Wednesday and Thursday; and stronger severe storms are possible Friday and Friday night as a cold front comes south into the area, bringing slightly cooler temperatures for us, though Saturday will still be warm and storms are still possible Saturday.
Here's today's hazardous weather outlook:
HAZARDOUS WEATHER OUTLOOK
NATIONAL WEATHER SERVICE DETROIT/PONTIAC MI
447 AM EDT TUE JUL 16 2013

MIZ047>049-053>055-060>063-068>070-075-076-082-083-170900-
MIDLAND-BAY-HURON-SAGINAW-TUSCOLA-SANILAC-SHIAWASSEE-GENESEE-LAPEER-
ST. CLAIR-LIVINGSTON-OAKLAND-MACOMB-WASHTENAW-WAYNE-LENAWEE-MONROE-
447 AM EDT TUE JUL 16 2013

THIS HAZARDOUS WEATHER OUTLOOK IS FOR ALL OF SOUTHEAST MICHIGAN.

.DAY ONE...TODAY AND TONIGHT

A HEAT ADVISORY IS IN EFFECT TODAY AND TONIGHT AS HEAT INDEX
VALUES REACH OR EXCEED 100 DEGREES DURING THE DAY AND LOWS ONLY
FALL INTO THE 70S TONIGHT.

THERE IS ALSO A CHANCE FOR THUNDERSTORMS THIS AFTERNOON AND
EVENING...PARTICULARLY NORTH OF I-94. THESE STORMS ARE NOT
EXPECTED TO BE SEVERE...BUT WILL HAVE THE POTENTIAL TO PRODUCE
VERY HEAVY RAINFALL. SLOW STORM MOTION OF UNDER 10 MPH TO THE
EAST-SOUTHEAST MAY LEAD TO LOCALIZED FLOODING.

.DAYS TWO THROUGH SEVEN...WEDNESDAY THROUGH MONDAY

A HEAT ADVISORY REMAINS IN EFFECT THROUGH MIDNIGHT ON WEDNESDAY.
AN ADDITIONAL HEAT ADVISORY MAY BE NEEDED ON THURSDAY AS WARM
TEMPERATURES AND HIGH HUMIDITY CONTINUE TO AFFECT THE AREA. THE
PROLONGED PERIOD OF HOT DAYTIME TEMPERATURES AND WARM AND MUGGY
NIGHTS WILL INCREASE STRESS ON THE BODY.

THUNDERSTORMS WILL BE POSSIBLE ON WEDNESDAY AND WEDNESDAY
EVENING...AND AGAIN THURSDAY THROUGH MID-DAY SATURDAY. THE
GREATEST POTENTIAL TO SEE ANY SEVERE WEATHER WILL BE ON FRIDAY AND
FRIDAY NIGHT AS A STRONG COLD FRONT DROPS SOUTHWARD THROUGH THE
AREA.

.SPOTTER INFORMATION STATEMENT...

SPOTTER ACTIVATION WILL NOT BE NEEDED TODAY AND TONIGHT.

$$

HLO

YOU CAN OBTAIN YOUR LATEST NATIONAL WEATHER SERVICE FORECASTS ONLINE
AT WWW.WEATHER.GOV/DETROIT (ALL LOWER CASE).