NWS Detroit has issued a severe thunderstorm warning for most of Washtenaw County until 5:45pm. This warning is in the path of a storm which developed south of Jackson and is tracking northeast at 28 mph. Hazards from this storm include 60mph wind gusts and quarter-sized hail.
The storm is expected to be near Barton Hills/Ann Arbor at 5:20pm.
I will monitor this storm; as we saw earlier, storms today have been dissipating more quickly owing to the relatively cool temperatures, so this storm may no longer be severe by the times it reaches us.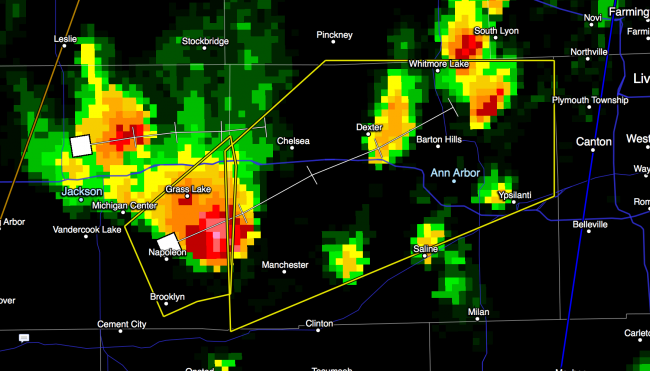 WUUS53 KDTX 272026
SVRDTX
MIC161-272145-
/O.NEW.KDTX.SV.W.0092.130727T2026Z-130727T2145Z/

BULLETIN - IMMEDIATE BROADCAST REQUESTED
SEVERE THUNDERSTORM WARNING
NATIONAL WEATHER SERVICE DETROIT/PONTIAC MI
426 PM EDT SAT JUL 27 2013

THE NATIONAL WEATHER SERVICE IN DETROIT/PONTIAC HAS ISSUED A

* SEVERE THUNDERSTORM WARNING FOR...
  WASHTENAW COUNTY IN SOUTHEAST MICHIGAN...

* UNTIL 545 PM EDT

* AT 421 PM EDT...A SEVERE THUNDERSTORM WAS LOCATED NEAR GRASS
  LAKE...AND MOVING EAST AT 25 MPH.

  HAZARD...QUARTER SIZE HAIL AND 60 MPH WIND GUSTS.

  SOURCE...RADAR INDICATED.

  IMPACT...HAIL DAMAGE TO VEHICLES IS EXPECTED. EXPECT WIND DAMAGE TO
           ROOFS...SIDING AND TREES.

* THE SEVERE THUNDERSTORM WILL BE NEAR...
  MANCHESTER AROUND 440 PM EDT.
  PLEASANT LAKE AND CHELSEA AROUND 450 PM EDT.
  DEXTER AND HUDSON MILLS METROPARK AROUND 505 PM EDT.
  DELHI MILLS AROUND 515 PM EDT.
  BARTON HILLS AND ANN ARBOR AROUND 520 PM EDT.
  DIXBORO AND YPSILANTI AROUND 530 PM EDT.

THE WARNING INCLUDES AREAS SURROUNDING THESE LOCATIONS...
  DIXBORO...            YPSILANTI...          SALEM...
  MANCHESTER...         DEXTER...             CHELSEA...
  ANN ARBOR...

PRECAUTIONARY/PREPAREDNESS ACTIONS...

FOR YOUR PROTECTION MOVE TO AN INTERIOR ROOM ON THE LOWEST FLOOR OF A
BUILDING.

&&

LAT...LON 4243 8396 4243 8355 4225 8355 4207 8413
      4231 8414
TIME...MOT...LOC 2026Z 249DEG 22KT 4219 8417

HAIL...1.00IN
WIND...60MPH

$$