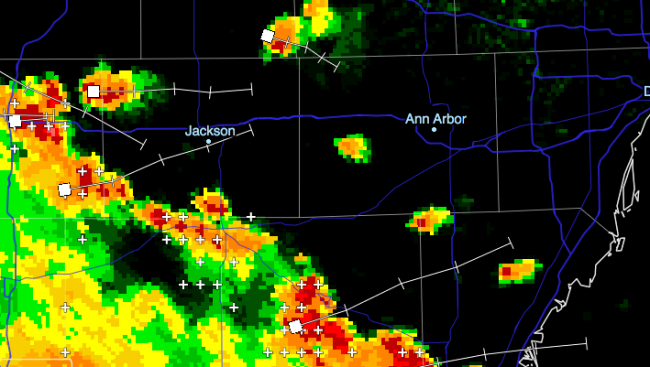 A line of thunderstorms has developed in northern Ohio and western Michigan and is moving our way. The line can be expected in Ann Arbor in roughly an hour; isolated storm cells may give us some rain before then. These storms are not currently severe, but they are expected to continue developing as they encounter the warm, humid air over southeast MI. Some cells in this line, particularly a strong one which will pass south of Ann Arbor, have produced strong winds, heavy rain, and small hail.
Looking forward, thunderstorms are likely across extreme southeastern Michigan tonight through early Wednesday morning. It is difficult to predict exactly when (and if) storms will hit downtown Ann Arbor specifically.
Heavy rain is expected with some storms across tonight. Warm and humid air across the area will fuel storm development tonight, and there is a slight risk of severe weather. Damaging wind is the most likely threat tonight, accompanied by the possibility of one inch hail.
The strongest storms tonight, and therefore the worst wind and hail threats, are likely to be in extreme southern MI and northern OH, just missing Ann Arbor. But we can still expect some thunderstorms, with slight severe potential.
Here's a helpful afternoon briefing from NWS Detroit.
The relevant part of today's hazardous weather outlook:
THUNDERSTORMS ARE LIKELY TONIGHT...MAINLY DURING THE LATE EVENING
THROUGH SUNRISE WEDNESDAY...AND OVER ALL OF SOUTHEAST MICHIGAN.
THERE IS A SLIGHT RISK OF SEVERE WEATHER WITH DAMAGING WIND THE
PRIMARY HAZARD. THE STRONGEST STORMS WILL BE CAPABLE OF WIND GUSTS
TO 60 MPH OR GREATER. ONE INCH DIAMETER HAIL IS ALSO POSSIBLE ALONG
WITH HEAVY RAINFALL. STORM MOTION WILL BE WEST TO EAST AT 40 MPH.

LOW PRESSURE OVER THE PLAINS AND MIDWEST WILL LEAD TO THUNDERSTORM
FORMATION THROUGH TODAY. THESE STORMS ARE EXPECTED TO GROW INTO A
LINE AND MOVE INTO LOWER MICHIGAN TONIGHT. CONTINUED WARM AND HUMID
AIR IN PLACE OVER SOUTHEAST MICHIGAN WILL FUEL THE STORMS AS THEY
MOVE THROUGH THE REGION. THE BEST CHANCE OF SEVERE WEATHER WILL BE
FROM ABOUT MIDNIGHT THROUGH SUNRISE WEDNESDAY.