Expect thunderstorms across the area this afternoon and evening; warm, moist, unstable air across SE MI will contribute to storms developing quickly and without much warning. (We've seen this already today with this line of storms.) The principal risks with these storms are probable damaging wind gusts and large hail, with a slight risk of isolated tornadoes. Also expect locally heavy rainfall. We have a slight risk of some of these storms becoming severe, particularly in the late afternoon.
Washtenaw County emergency operations center: "SEVERE STORMS WITH 65 MPH WINDS, ONE INCH HAIL, ISOLATED TORNADOES AND URBAN FLOODING ARE POSSIBLE TODAY AND TONIGHT."
NWS Detroit:
THERE IS A CHANCE OF THUNDERSTORMS OVER ALL OF SOUTHEAST MICHIGAN
TODAY WITH THUNDERSTORMS LIKELY TONIGHT. THERE IS A SLIGHT RISK
OF SEVERE WEATHER BOTH TODAY AND TONIGHT...BUT WITH THE BEST
CHANCE BEING DURING THE WARMEST PART OF THE LATE AFTERNOON INTO
EARLY EVENING. THE PRIMARY HAZARD WILL BE HEAVY DOWNPOURS AND
DAMAGING WIND GUSTS NEAR 60 MPH...BUT HAIL UP TO 1 INCH IS ALSO
POSSIBLE AS STORMS MOVE FROM SOUTHWEST TO NORTHEAST AT 30 MPH.

WARM AND HUMID AIR WILL REMAIN IN PLACE OVER LOWER MICHIGAN TODAY
THROUGH TONIGHT. THE POTENTIAL FOR SEVERE WEATHER WILL BE TIED TO
AFTERNOON TEMPERATURE TRENDS AFTER SHOWERS AND THUNDERSTORMS
DURING THE MORNING EITHER DISSIPATE OR EXIT THE AREA. THIS IS
EXPECTED TO RESULT IN JUST SCATTERED COVERAGE UNTIL LATER TONIGHT
WHEN CLUSTERS OF ACTIVITY WILL MOVE IN FROM THE MIDWEST AND OHIO
VALLEY. COVERAGE WILL BE GREATER BY THEN BUT INTENSITY WILL BE
DECREASING DURING THE OVERNIGHT HOURS.
NWS Detroit notes that the episodic nature of these thunderstorms creates forecasting challenges in regards to exact timing. Additional reading: NWS Detroit briefing slides for today.
Today's severe weather outlook shows us at slight risk for severe thunderstorms: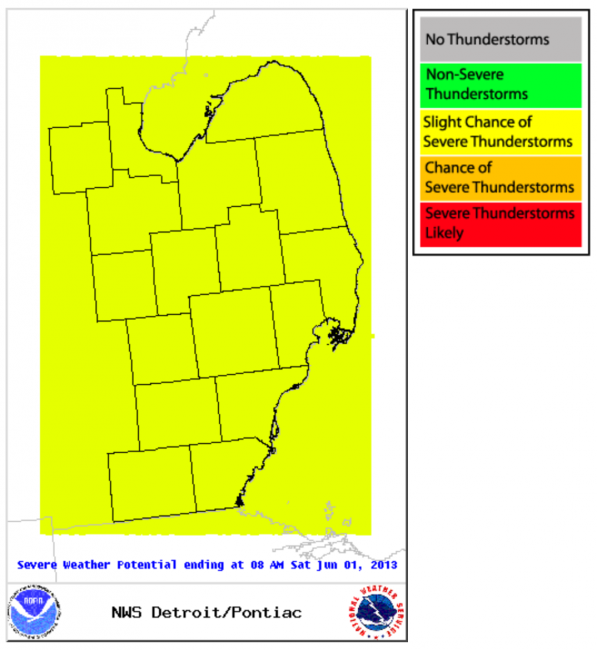 We've already seen one severe storm in the area, and as more storms continue to develop over the next 10 hours, some will be severe.
Our outlook today shows us at slight risk for severe convective weather; a 15% chance of large hail; a 15% chance of damaging wind; and a 2% chance of tornadoes.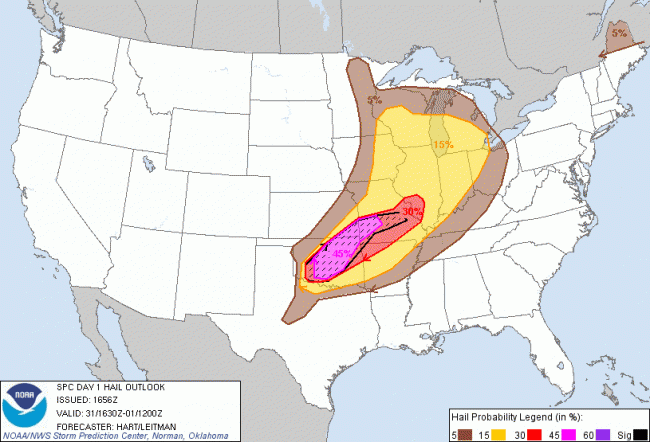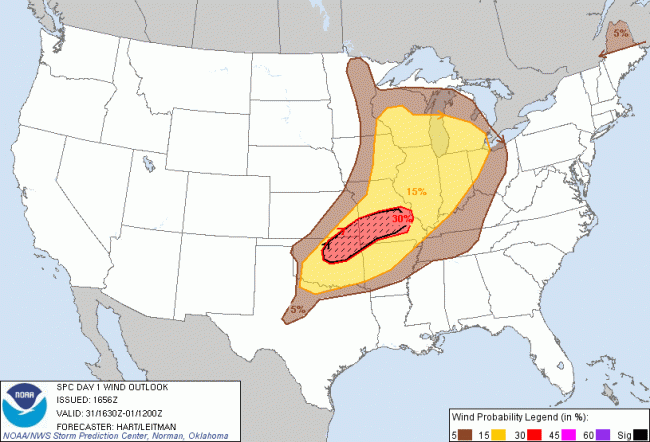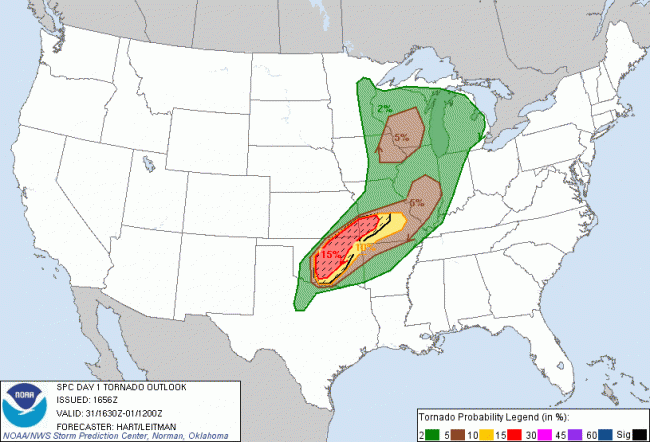 Looking forward, the SPC's thunderstorm outlook for 4-8pm shows us around a 40% risk for thunderstorms; I believe this is conservative given what we've already seen today. From 8pm-midnight, they show us just outside a 40% risk area, and again from midnight-8am; again, I expect thunderstorms in are area at least through midnight.