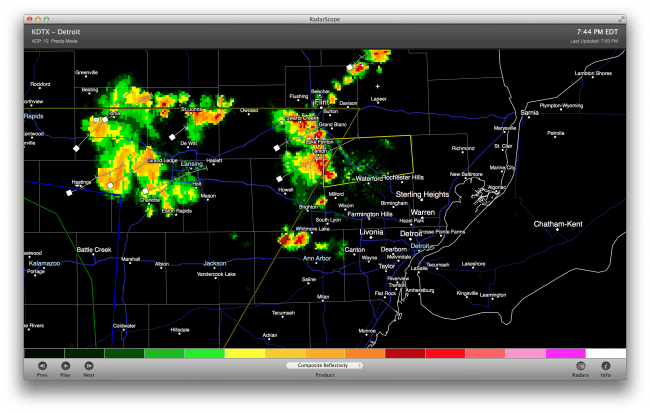 For now, at least, these summer thunderstorms are just north of downtown Ann Arbor, extending north past Flint and west past Lansing. These storms developed relatively quickly late this afternoon, and we can expect development to continue into the evening as the air cools.
A severe thunderstorm watch, effective until midnight EDT, extends into the western third of Washtenaw County; at closest, its border is 10 miles from A2, so I would expect to see some thunderstorms here at some point tonight, some of which may be severe. (Within the severe thunderstorm watch area, which includes the northern half of Indiana and the southwest/south-central portion of Michigan, primary risks are significant damaging winds, large hail, and a few tornadoes.)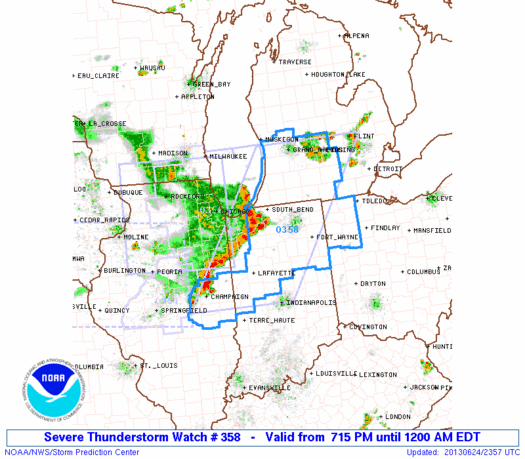 Looking forward, we can expect thunderstorms across the area Tuesday morning. (The SPC puts us in the 40% probability area for thunderstorms from midnight through Tuesday morning.) Some of these storms will be severe, with the primary threats being damaging wind, large hail, and brief heavy downpours.